Allied Pathfinders Program
Every year, we select two organizations to receive a 2-hour pro bono workshop as part of our community-to-community transformation commitment.
If your organization or program makes under $20,000 annually, you are eligible for this opportunity. While organizations or programs are usually nominated, we welcome applications submitted for consideration.
Interested applicants should submit a letter of interest, a program or organization brochure with your business EIN/tax ID number, an equity or cultural humility action plan, and a description of available internal resources for hosting the event (e.g., access to a training space, onsite coordinator to help with logistics).
The Beverly Ann Taylor Scholarship
This scholarship covers the cost of one student annually working with marginalized (BIPOC, Queer, poor, terminally ill or disabled) seniors as a community activist, student, advocate, or professional in the Bayview-Hunters Point district or elsewhere in San Francisco.
Applicants will receive tuition-free attendance to our year-long cultural humility and leadership certificate program (valued at $5000).
Interested applicants should submit a letter of interest, a CV, two letters of support (one from a colleague, teacher, or employer), and a description of how they will share their learning and how it will enhance their work with seniors.
---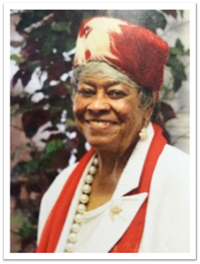 About Beverly Ann Taylor
August 19, 1931—February 19, 2022
Beverly worked at Atherton High School and Redwood City High School, before getting called to Oakland, CA, as a substitute teacher. She then took a permanent teaching position at Elmhurst Junior High School as a reading specialist. She started the first parent-child reading learning lab funded by the Ford Foundation, an afterschool tutorial program to enhance study/learning skills. Because of the success of this program, she was transferred to Castlemont High School as a reading teacher for one semester and then to Skyline High School as a reading specialist/English teacher, then as a counselor.
While teaching at Skyline, Beverly served as an English teacher for Edward Shane's Adult Extension program early morning class, which was an inspiring experience. She then worked as an English teacher at San Francisco City College, including part time with high school college prep.
As an early retiree from Oakland high schools, in 1991, Beverly continued to serve students' needs as a consultant for student placement in the Oakland Unified School District. She joined the Network for Elders as a volunteer and then served on the Network for Elders' board of directors as secretary. As an advocate for senior independence and stability, she focused on doing all she could to enhance lives. She worked on the first community board in Bayview, which was instrumental in helping to establish the first barber college. Subsequently, she become the volunteer manager for Project Voice Interfaith, funded by the Robert Wood Johnson Foundation.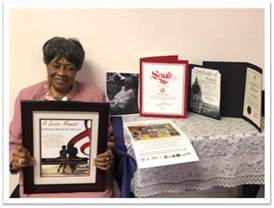 She said, "The most gratifying aspect of my career was serving others. Being able to bring some sunshine into someone else's life through a kind word or deed, or just being available. If I can help somebody as I travel on, then my living shall not be in vain."
Her future goal was "to open a place for seniors to visit for services and to participate in healthy activities as well as socialize—a place that provided an independent, wholesome environment, at no cost to them."